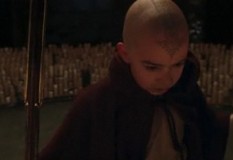 Avatar: The Last Airbender has become popular with both audiences and critics, receiving high ratings in the Nicktoons lineup, even outside its 6-11-year-old demographic. Just like the TV series, The Last Airbender movie revolves around a world where human civilization is divided into four nations: Water, Earth, Air and Fire. Aang, the "Last Airbender" and the main protagonist, as well as his friends must save the world by defeating the Fire Lord and ending the destructive war with the Fire Nation.
The Last Airbender stars Noah Ringer as Aang, Nicola Peltz as Katara, Jackson Rathbone as Sokka, Cliff Curtis as Fire Lord Ozai, Shaun Toub as Uncle Iroh, Aasif Mandvi as Admiral Zhao, Dev Patel as the Fire Nation's evil prince Zuko, who is sent to capture the Avatar in order to restore his honor and right to the throne after being exiled from the Fire Nation by his father.
In January 2007, Paramount Pictures' MTV Films and Nickelodeon Movies announced that they had signed M. Night Shyamalan, who was attracted to the spiritual and martial arts influences on the show, to write, direct and produce a trilogy of live-action films based on the series. Academy Award-nominated composer James Newton Howard (The Dark Knight), on the other hand, was tasked to record the music for the teaser trailer. Pre-production began in late 2008, while filming began in March 2009 in Greenland.
Overview
Plot:
The story follows the adventures of Aang, a ten year old successor to a long line of Avatars, who must put his childhood ways aside and stop the Fire Nation from enslaving the Water, Earth and Air nations.


Cast: